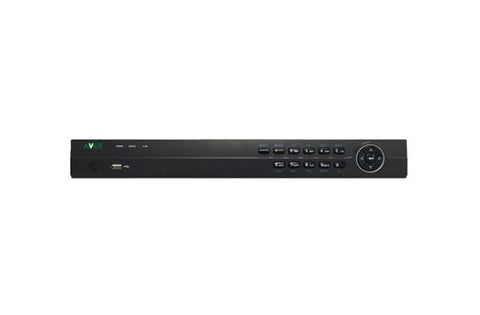 8CH H.265 4K NVR 80Mbps Bit Rate Input Max (up to 8MP IPC) 2 SATA interfaces
Description:
This is a reliable new generation 8 channel NVR with HDMI video output of up to 4K resolution. It utilizes several advanced technologies, such as audio and video decoding technology, embedded system technology, storage technology, network technology and intelligent technology. It features smart playback, supports live view and storage, and offers high video quality with lowered bitrate. This NVR can both work alone as a recorder and cooperate with other devices to form a comprehensive surveillance system.
Feature Points:
HDMI output at up to 4K resolution
Supports live view, storage, and playback of connected cameras up to 12MP resolution
Smart playback
Instant playback for assigned channel during multi-channel display mode
H.265 / H.264 / MPEG4 video formats
High video quality with lowered bitrate
Supports VCA detection alarm
Locking / Unlocking record files
Physical Interfaces:
NOTE:
The picture shows the rear panel of LTN-08T31U.
The LTN-08T31U and LTN-16T31U  provide 4 and 16 network Interfaces with PoE function. Please refer to the specification for the details.
| | | | |
| --- | --- | --- | --- |
| Index | Description | Index | Description |
| 1 | AUDIO IN | 7 | USB 3.0 Interface. |
| 2 | AUDIO OUT | 8 | GND |
| 3 | VGA Interface | 9 | 100 to 240 VAC power supply |
| 4 | HDMI Interface | 10 | Power Switch |
| 5 | Controller Port, Alarm In/Alarm Out | 11 | Network Interfaces with PoE function |
| 6 | LAN Network Interface |   |   |
Specification:
Model

 

 

LTN08T31U

 

Video/

Audio input

IP video input

4-ch

8-ch 

16-ch 

Incoming bandwidth

40Mbps

80 Mbps 

160 Mbps

Outgoing bandwidth

80Mbps

160 Mbps 

Video/

Audio output

HDMI output

resolution

4K (3840 × 2160)/30Hz, 1920 × 1080/60Hz, 1600 × 1200/60Hz, 1280 × 1024/60Hz, 1280 × 720/60Hz, 1024 × 768/60Hz

4K (3840 × 2160)/30Hz, 2K (2560 × 1440)/60Hz, 1920 × 1080/60Hz, 1600 × 1200/60Hz, 1280 × 1024/60Hz, 1280 × 720/60Hz, 1024 × 768/60Hz

VGA output

resolution

1920 × 1080/60Hz, 1280 × 1024/60Hz, 1280 × 720/60Hz, 1024 × 768/60Hz

Audio output

1-ch, RCA (Linear, 1 KΩ)

Decoding

Decoding format

H.265/H.264/H.264+

H.265/H.264/H.264+/MPEG4

Recording resolution

8MP/6MP/5MP/4MP/3MP/1080p/UXGA/720p/VGA/4CIF/DCIF/2CIF/CIF/QCIF

Synchronous playback

4-ch

8-ch

16-ch

Capability

4-ch@1080p

2-ch @ 4K, or 8-ch @ 1080p

Network management

Network protocols

TCP/IP, DHCP, Cloud P2P, DNS, DDNS, NTP, SADP, SMTP, NFS, iSCSI, UPnP™, HTTPS

Hard disk

SATA

1 SATA interface for 1HDD

2 SATA interfaces for 2HDDs

Capacity

Up to 6TB capacity for each disk

External interface

Two-way audio

1-ch, RCA (2.0 Vp-p, 1kΩ)

Network interface

1 RJ-45 100 Mbps full-duplex Ethernet interface

1 RJ-45 10/100/1000 Mbps self-adaptive Ethernet interface

USB interface

Front panel: 1 × USB 2.0; Rear panel: 1 × USB 2.0

Front panel: 1 × USB 2.0; Rear panel: 1 × USB 3.0

Alarm in/out

NA

4/1

POE Interface

Interface

4 RJ-45 100 Mbps full-duplex Ethernet interfaces

8 RJ-45 10/100 Mbps self-adaptive Ethernet interfaces

16 RJ-45 10/100 Mbps self-adaptive Ethernet interfaces

Power

≤ 40 W

≤ 120 W

≤ 200 W

Supported standard

IEEE 802.3 af/at

General

Power supply

48 VDC

100 to 240 VAC

Power

≤ 180 W

≤ 180 W

≤ 280 W

Consumption

(without hard disk)

≤ 10 W

≤ 15 W

Working temperature

-10 to +55° C (14 to 131° F)

Working humidity

10 to 90 %

Chassis

1U chassis

385 mm chassis

Dimensions

(W × D × H)

315 × 240 × 48 mm (12.4" × 9.4" × 1.9")

385 × 315× 52 mm (15.2" × 12.4" × 2.0")

Weight

(without hard disk)

≤ 1 kg (2.2 lb)

≤ 3 kg (6.6 lb)
---